Today's fortune: Prepare for a change of events in your personal life.
That's funny. This morning, before I opened today's cookie, I was thinking the same thing.
For today is a very happy occasion, a day that comes around once a year and does, in fact, signal a new season and a new way of life.
Today is Opening Day.
My hometown Kansas City Royals took the field at Kauffman Stadium this afternoon. And although the team lost, baseball season is officially here. And that's a fine thing.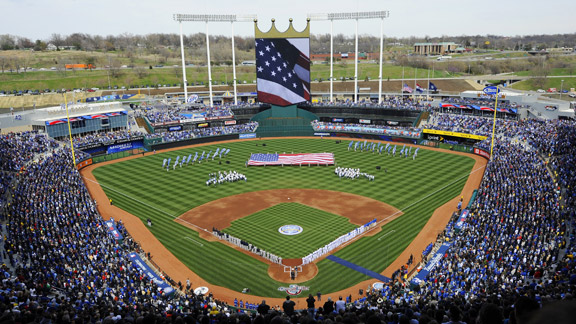 Pictured: Heaven.

Besides my wife, my family, my friends, my cats and
my books
, I really only have one love in my life: baseball. I've been enamored with the game since childhood. One of my earliest memories is the Kansas City Royals winning the 1985 World Series. My brother and I watched Game 7 from the living room floor. When the last out was recorded, six-year-old Matt Kelsey pounded his fists on the carpet and screamed until his throat was sore.
That was the last time the Royals were any damn good. But I've been a loyal fan my whole life, despite what my mother says. She claims I'm a "fair-weather fan" because my allegiance to the hometown team waivered when the Royals traded Bret Saberhagen to the Mets in December 1991. That was the worst Christmas ever.
Although Saberhagen was my favorite player when I was a kid, the best player I ever saw was George Brett. On the day he retired in 1993, my parents promised us that if he were ever inducted into the Baseball Hall of Fame, we would go to Cooperstown, New York, for the induction ceremony. Five years later, he was, and to my parents' chagrin, Marty and I didn't forget the promise. We attended the induction with thousands upon thousands of baseball fans from around the world.
Even to this day I live and die by the Royals and the game itself. I scour the newspaper and the internet every day for scores and updates. I write for a
baseball website
. The desk where I'm sitting right now is surrounded by baseball memorabilia, including balls autographed by Yogi Berra, Bob Gibson and the late, great Buck O'Neil; a photo of Lou Gehrig with the Marx Brothers; a Bret Saberhagen bobblehead doll; and a tiny replica of Kauffman Stadium.
One of my favorite things about the game is teaching my wife about it, and she soaks it in like a sponge. When we first started dating, Jamie knew as much about baseball as this guy:
Now she is a knowledgeable, thoughtful baseball fan.
All of this is to say that there are two Matt Kelseys: the Matt Kelsey who exists from November through March, who is a mere ghost of a man; and the Matt Kelsey who lives from April through October, when blood pumps through my veins and the Boys of Summer take the field.
It's a significant change of events in my personal life.
By the way: I had two really bad days in a row at work, as you know if you read this blog. I told myself this morning that no matter what, this would be a good day. It's Opening Day, and even though I couldn't be at the ballpark, I was bound to enjoy it.
And you know what? It
was
a good day.